THE DIPS TO YOUR CHIPS
There's more to life than Buffalo Chicken Dip … JUST KIDDING. Buffalo Chicken Dip reigns supreme. But with a few kicked up variations and twists, like the ones below, you just might find room in your life for a few more favorites.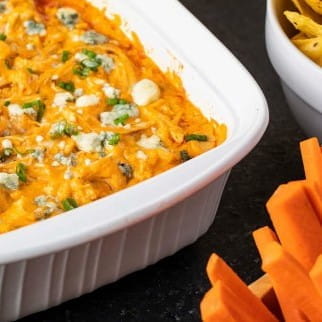 The best Buffalo chicken dip ever? Pretty much. Loaded with shredded chicken, cream cheese, Ranch Dressing, Blue Cheese crumbles and a s#!t ton of Frank's RedHot® Original Hot Sauce, this is one seriously scoopable dip.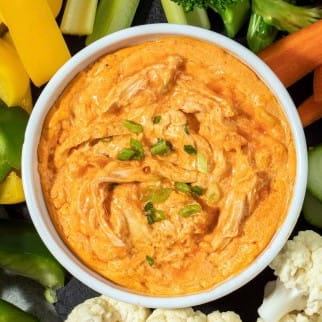 Nosh on this lightened-up version of traditional Buffalo wing dip whenever the craving hits. It's got all the same cheesy, creamy flavors and textures, plus that craveable Frank's RedHot® Original Hot Sauce flavor you know, love and live for.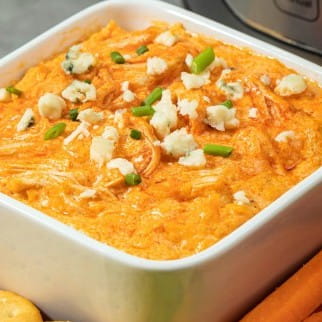 Game day eats gotta include Buffalo Chicken Dip. And when you prep it in your Instant Pot® it's ready to serve in just 20 minutes. Each scoop is a creamy, cheesy, chicken-y dream of signature Frank's RedHot® Original Hot Sauce flavor.
Meet the Buffalo Chicken Dip that works smarter, not harder. Just add Frank's RedHot® and the rest of the ingredients into the slow cow cooker and get back to the more important things – your crew, the game, your pup, whatever!
When it comes to vegan party foods, this dip changes the game. Made with Frank's RedHot® Original Hot Sauce and easy ingredient swaps like cauliflower, blended cashews and vegan mayo, it's as every bit of creamy and craveable as the OG Buffalo Chicken Dip.
Get dipping with a few of our favorite ways to scrape every last scoop of Buffalo Chicken Dip outta the bowl.
Tortilla chips
Sturdy potato chips
Pita wedges
Bagel chips
Crackers
Carrot sticks
Celery sticks
Sliced radishes
Zucchini chips
Sliced bell peppers
Mozzarella sticks
Pizza rolls
Fried anything
Sliced sausages (slice on a diagonal for more surface area)
Pork rinds
Chicken wings (especially the drums)