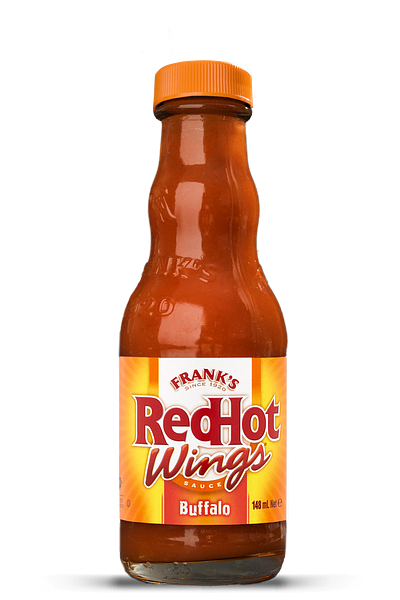 FRANK'S RedHot® Buffalo Wings Sauce
Get hot & spicy restaurant-style wings at home with our Buffalo Wings Sauce, the secret ingredient used in the OG Buffalo wings. Find out where to buy buffalo sauce + get buffalo wing recipes below.
Ingredients
Distilled Vinegar, Aged Cayenne Red Peppers, Salt, Water, Canola Oil, Paprika, Xanthan Gum, Natural Butter Type Flavor and Garlic Powder.
Nutrition information (per serving)
We understand the seriousness of food allergies and sensitivities and will always declare these ingredients on our label in the ingredient statement - they will never be hidden under the notations of "spices" or "natural flavours".
If no ingredient statement appears on the product label, then the products is as it appears in the product name (e.g. black pepper).
Whilst our original Frank's products are manufactured in the USA we have checked them out fully and labelled them to ensure they fully comply with Australian and New Zealand food regulations (FSANZ).

Therefore all allergens and ingredients are declared on the labels in accord with FSANZ regulations.

We encourage you to read the ingredient statement on your package at the time of purchase to ensure accurate, up to date information.
Our facilities have allergen, sanitation, and hygiene programs in place. Our employees follow good manufacturing practices and are trained in the importance of correct labelling and the necessity of performing thorough equipment clean-up and change over procedures to minimise cross-contact of ingredients.